Kristi Poland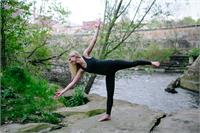 Seven years ago Kristi stepped into a yoga class for the first time and left with a feeling that she was unable to describe. It was an amazing feeling of bliss, presence, and awareness that at the time was not completely understood by her 16 year-old self. During this time, she was dancing competitively, training in jazz, ballet, hip hop, and tap, and she continued to dance into her first two years of college, performing and teaching where opportunities arose.

After two years of college, in 2010, Kristi realized that she was looking for something different, for something more. Her compassionate nature and eagerness to help others, combined with a fascination of the human body led her to nursing school. At the same time, she not only transitioned from dancing to nursing, but also began practicing yoga regularly and found a new passion, falling in love with the physical and mental benefits of the practice. After discovering a practice both on and off her mat and having a better understanding and deeper insight into life, she knew that teaching was in her future.

In the summer of 2013, Kristi traveled to the White Lotus Foundation in Santa Barbara, California where she completed a 200 hr teacher training program, a deeply transformational experience. She is thankful for her teachers, Kent Bond, Sven Holcomb, Ganga White, and Tracey Rich, who allowed her to deepen her practice and begin her teaching journey. She truly believes that yoga has the ability to heal and transform and hopes to bring yoga into her career as a nurse in the future.
Kristi Poland is currently not instructing any classes.