Amy Lyzen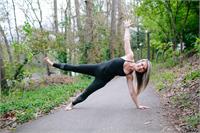 There is nothing that makes Amy feel more energized and alive than yoga! Amy began her journey practicing yoga almost 11 years ago. She dedicated herself to the practice and study for the last 5 years, discovering the plethora of benefits and significant amounts of joy yoga has graced her with. Amy's strongest relationship in life is without-a-doubt her yoga mat. Yoga is an integral piece of Amy's being. She believes yoga is one of the most intelligent forms of exercise, as it tunes the mind, body, and spirit into one another providing a strong sense of peace and balance. Yoga has enlightened Amy's path both personally and professionally. Amy earned her Master of Public Health from Kent State University in 2013 and when she is not on her mat in the studio, she is coordinating research clinical trials at a large health system in Northeast Ohio. Additionally, Amy loves bicycling, music, and being with her friends. Amy recently earned her 200hr yoga certification with Michelle Barnette and Margo Milcetich. Amy loves to connect and share her passion with others. She is forever learning as a teacher and a student. Amy honors the gift of yoga and is grateful for the profound impact it has had and continues to have in her life.
Amy Lyzen instructs the following:
For the beginner or the student who has been away from their practice for awhile, this basic yoga class focuses on awareness of breath and the connection with movement. It also awakens the relationship between mind and body as you learn the alignment principals and postural patterns of beginner yoga. Strength and muscle endurance isn't necessary but will be gained with regular attendance.




Think Power Yoga meets Slow Flow/Restorative. Handstands plus Heart Openers! This half and half class will get you excited and balanced for the holidays. Get ready to rock out, go upside down and inside out and then melt so you can head home invigorated and ignited for your off the mat celebrations!




A slower class that uses the basic postures of vinyasa flow to focus on breath work and alignment. This class is a good transition class between basic and vinyasa flow. Slow Flow yoga provides a relaxing environment where you can drop the stress of everyday life.




Practice of postures that are more challenging than basics and vinyasa flow classes. This power class focuses on alignment and movement throughout the poses. This energetic, fun class invigorates your body and mind and works all the kinks out of your day. Definitely the most strenuous of classes for those that want to work! Come hydrated and ready to move!