Christine Luketic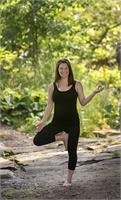 Christine was first introduced to yoga when her husband gifted her with a yoga pass for her birthday. She found the physical practice to be invigorating, but also noticed the reawakened sense of calmness that she carried away from the mat. She began to read books by Thich Nhat Hanh, Stephen Cope and Ray Long to deepen her understanding of this practice. Wanting to know more, Christine traveled to the Costa Rican jungle to study under Indira Kate Kalmbach at Pavones Yoga Center, and complete her 200-hour level yoga teacher training. At PYC, Christine was reintroduced to the intersection of yoga and eco-psychology and the interconnectedness between humans and nature, which we often forget. Awareness of this deep connection between all beings brings kindness and compassion to our interactions. It helps us to slow down to witness how we are in this together, with a stranger, a tree, a river, a stray-dog.
Christine hopes to share her love of this practice by offering classes that are inviting, accepting and make the body feel good. In addition to her yoga practice, Christine enjoys reading as many books as she can get her hands on, hanging out with her husband and dog-daugther, and working as a speech-language pathologist in the schools.
Christine Luketic is currently not instructing any classes.