Allison Yanci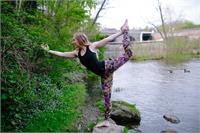 Like many yogis, Allison began her practice following her passion for physical fitness. She trained for years as a bodybuilder lifting weights and exercising in a gym, where she took her first yoga classes. Beyond poses and stretching, yoga struck Allison as a way to balance and care for herself. Through asana (postures), pranayama (breath work), and dhyana (meditation), she developed a love for yoga not only as a physical practice but also as a lifestyle and perspective. After earning her Bachelors in Business Administration from Kent State, Allison completed her 200-hour yoga teacher training at One Love Yoga & Boutique in 2016. She embraces a powerful practice with a healthy sense of fun and compassion, and is eager to help others find sthira sukha (steadiness and ease) in their own practices and everyday lives. In her spare time Allison loves to travel, go to concerts and shows, play with animals, bake and cook, learn about nutrition, read, and spend time with family. One day, she hopes, she'll teach yoga on the beach.
Allison Yanci instructs the following:
Think Power Yoga meets Slow Flow/Restorative. Handstands plus Heart Openers! This half and half class will get you excited and balanced for the holidays. Get ready to rock out, go upside down and inside out and then melt so you can head home invigorated and ignited for your off the mat celebrations!




All the element of a basics yoga class in a convenient 50-minute format so that our students have time to swing in for a class during lunch break!