Elizabeth Howard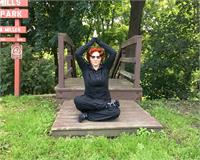 Elizabeth Howard began meditating when she was 18 and started reading Indian literature and philosophy while living in India. Through yoga teacher friends, she began practicing yoga about 5 years ago. She recently earned her teaching certification at Shiva Yoga Peeth in Rishikesh, India, on the banks of Ma Ganga (the Ganges River). Be kind to yourself today and give yourself the gift of yoga.
Elizabeth Howard instructs the following:
For the beginner or the student who has been away from their practice for awhile, this basic yoga class focuses on awareness of breath and the connection with movement. It also awakens the relationship between mind and body as you learn the alignment principals and postural patterns of beginner yoga. Strength and muscle endurance isn't necessary but will be gained with regular attendance.