Trisha Kusner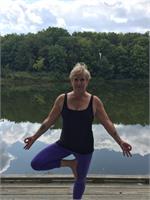 Trisha started practicing yoga at home with a DVD and soon downloaded various classes on iTunes. After getting up the nerve to take a few classes in a real studio she discovered a vast community of like-minded people and felt like she was "home". At first yoga was just a physical practice but soon she began to see the effects of her practice transform other parts of her life. Wanting to take her practice deeper, she enrolled in teacher training and started her life long journey of dedicating herself to yoga and the study of this limitless tradition. She truly believes in what yoga has to offer on a physical, mental, and spiritual level and loves helping people find ease and joy on their mats. Trisha received her 200-hr certification through Chagrin Yoga and her 500-hr certification through Zen Yoga Studio & Healing Arts Center. She studies continuously as she feels one should never stop learning.
Trisha Kusner instructs the following:
Gentle/Moderate is a mix of warm-ups and gentle stretching, stabilization poses, strengthening, balancing and relaxation. The practice is a bit more challenging than Gentle yoga classes but the pace is similar. Modifications are given and is beneficial for all levels of practitioners.




All the element of a vinyasa flow class in a convenient 50-minute format so that our students have time to swing in for a class during lunch break!




A slower class that uses the basic postures of vinyasa flow to focus on breath work and alignment. This class is a good transition class between basic and vinyasa flow. Slow Flow yoga provides a relaxing environment where you can drop the stress of everyday life.