Summer Szaz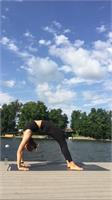 Summer was introduced to yoga by her mother when she was in second grade, to help her deal with anxiety before school. They would practice every morning setting the intention for a positive day ahead. During her eighth-grade year she started to deepen her practice after the loss of her grandma. She used yoga as a mental and emotional escape; allowing her to be completely free and open to flow on her mat. Yoga gave her both a powerful physical practice as well as a powerful and grounding practice in mindfulness. Summer went through her 200 RYT Baptiste Power Yoga training at the age of 17. She is extremely grateful for how yoga has transformed her life and wants to share the practice with as many people as possible. She finds teaching an opportunity to give back and lead others towards deepening their practice both on and off the mat.

Summer had the privilege to teach in Florence, Italy during her semester abroad. This experience gave her an incredible sense of gratitude and humility. Teaching in a different country with a different native language helped her to improve both as a teacher and student as well as gain insight to the global yoga community.

Yoga has provided significant amounts of growth and creativity for Summer as a student and she tries to incorporate space in her teaching practice to allow students to find growth and creativity on their own mat. Summer loves that yoga is an individual practice, everyone moving at their own pace and flowing through each pose differently according to their body, but at any point throughout the practice the one thing that will always be connecting us is our breath.
Summer Szaz instructs the following:
For the beginner or the student who has been away from their practice for awhile, this basic yoga class focuses on awareness of breath and the connection with movement. It also awakens the relationship between mind and body as you learn the alignment principals and postural patterns of beginner yoga. Strength and muscle endurance isn't necessary but will be gained with regular attendance.




Moderate yoga gives a different kind of challenge - less poses more variations. Seeking to activate and strengthen alignment and space in the joints of the body. Great class for shoulders, hips, back and knee projects.




Practice of postures that are more challenging than basics and vinyasa flow classes. This power class focuses on alignment and movement throughout the poses. This energetic, fun class invigorates your body and mind and works all the kinks out of your day. Definitely the most strenuous of classes for those that want to work! Come hydrated and ready to move!