Heidi Shaffer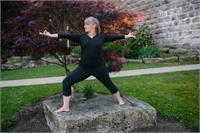 Heidi Shaffer "accidentally" found yoga in 1992 while searching for a tension headache remedy. It worked the very first time! Over the years she has used yoga to work through PTSD, depression, a painful back injury, and several life changes, experiencing transformation on many levels along the way. Heidi began teaching yoga in 1996 and was certified in Integrative Yoga Therapy (IYT) in 1997. She received advanced training over several years in IYT and worked for IYT assisting at international trainings and in the local office. Studying with many local and national teachers, Heidi has taken yoga teacher trainings and workshops with Donna Farhi several times. She is also certified in Prenatal Yoga with Canadian Janice Clarfield. Heidi blends a breath-based Iyengar-based approach with intelligent, joyful creativity, modifying poses and meeting students where they are. Heidi loves yoga philosophy as it applies to our every day lives. She is currently studying philosophy in the Tantric tradition – an approach that embraces this amazing experience of being alive. Heidi founded Kent Yoga in 2001 along with Margot Milcetich and Mike Curtis. She especially loves working with beginners, individuals at mid-life and beyond, and pregnant women.
Heidi Shaffer instructs the following:
Gentle yoga meets you where you are, whether you are in recovery from an injury or illness, or you simply prefer a slow pace or more warm-ups. While there are not necessarily beginner class, this may be a good place to start if you are unsure of your level.