Florey Cordon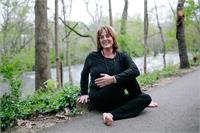 Florey tried Yoga for the first time over 13 years ago with a class at the Kent Wellness Center. The instructor suggested Florey check out Kent Yoga which at that time was located in the Apples plaza. She started yoga classes weekly trying to figure out the breathing, the poses, the excitement but what she needed to figure out was BEING in the moment, the present moment. It took time, years, but when the "AH HA" moment hit her and it was a beautiful thing!
Florey learned to listen to her breathing, breathing in poses and the excitement of the breath that carries you through a flow. She learned to listen and sit quietly with her breath and be still (which was very hard for her). At the suggestion of some yoga friends, Florey decided to take her 200hr Yoga Teacher Training at the Yoga Place in Canton. She met wonderful teachers and received her certificate in 2012. She was trained in Hatha Yoga & Iyengar Yoga. When she was able to teach, she taught at RP Fitness and filled in at Kent Yoga which was now located at the Kent Silk Mill. She was offered to teach a class weekly at Kent Yoga, her yoga home, she felt both honored and blessed. Florey's teaching fundamentally centers around alignment with lots of stretching to warm up the body. Use of props for proper alignment helps students adjust to the pose with their own bodies. She believes in teaching students wherever they are in their yoga journey so her classes can be a mix of beginners to yoga gurus!
When Florey is not teaching yoga, she can be found selling fine wines and driving her son around for activities. She also does a wine and yoga class that has been a very social event! She continues on her yoga journey and still considers herself a student learning every day.
Florey Cordon instructs the following:
Moderate yoga gives a different kind of challenge - less poses more variations. Seeking to activate and strengthen alignment and space in the joints of the body. Great class for shoulders, hips, back and knee projects.




Gentle/Moderate is a mix of warm-ups and gentle stretching, stabilization poses, strengthening, balancing and relaxation. The practice is a bit more challenging than Gentle yoga classes but the pace is similar. Modifications are given and is beneficial for all levels of practitioners.