Morgan Laing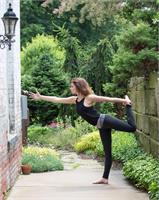 Morgan Laing started doing yoga in 2005, growing up in yoga studios as she tagged along for her mothers classes. Deepening her practice through her 200 hour yoga certification, Morgan found the components of yoga that deeply resonated with her. Using the physical practice of yoga to calm the mind and steady the body, she was able to discover her passion to pass on what she had learned to others. The importance of simply caring for the mind and body through eating, sleeping, and self love. How things so simple and basic could bring so much joy and confidence, to everyday life.
Yoga was the link Morgan needed to connect a diverse martial arts background, years of playing on different sports teams and her love to interact and inspire all. Morgan uses her life long connection with the practice of yoga to create a genuine and authentic take on traditional Strength and Vinyasa classes.
Morgan Laing is currently not instructing any classes.