Erin Cornell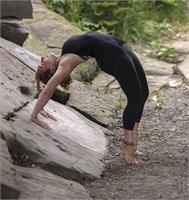 Erin's journey into yoga began with an intention to quiet self limiting beliefs and find her true self. She left her first class, feeling a transformation in awareness. She saw the breath to the trees, felt the expansive yet pervasive nature of the universe, and knew instantly that yoga was a path worth taking. She has continued a daily practice since then, as well as an enthusiastic study of its philosophies. Her desire to share this love led her to the yoga teacher training at Chagrin Yoga, where she obtained her 200 hour certification with the Yoga Alliance. She was also attuned to first degree in the Usui System of Reiki Healing through this program.
Erin believes that yoga is about easing the mind to connect with our innate energy. She dreams of a world where everyone finds their own edge: the place past fear where we recognize our true capabilities and expand our human potential. She gives you the space and opportunity to do this in every class she teaches. Her classes are fun yet challenging and through a compassionate approach, welcoming to all. Erin has a passion for handstands and inversions and hopes to share her knowledge of them with you in a safe and encouraging environment.
She is deeply grateful to the teachers and guides she has encountered in life, and is excited to continue to learn, with and from you! She is confident that yoga is a transcendent experience for everyone who chooses it, indeed connecting us to our true selves. She is also confident that one day she may be able to smile and breathe in a twisted chair pose, but only time will tell.
Erin Cornell instructs the following: