Margot Milcetich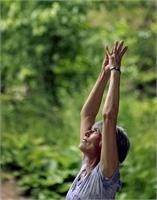 Margot Milcetich has been teaching yoga in the Kent area since 1983 and Brahmrishi Yoga Teacher Training since 2004. Her depth of knowledge, involvement, and practice of yoga created a foundational teacher for our yoga community. The experience she offers includes annual retreats, teacher training at the basic and advanced levels, and anatomy and philosophy workshops for numerous studios. She has performed kirtan for 18 years with Breathing Room and Om Out Loud. Over the years, her creations include four CD's of chanting and yoga music, and publications with her husband on yoga philosophy, along with a memoir of 20 years with her guru. She continues to find ways share her love of yoga and love of teaching. Margot is excited to join the One Love and Kent Yoga communities. It is a home-coming.
Margot Milcetich instructs the following:
Gentle yoga meets you where you are, whether you are in recovery from an injury or illness, or you simply prefer a slow pace or more warm-ups. While there are not necessarily beginner class, this may be a good place to start if you are unsure of your level.