Treva Alleshouse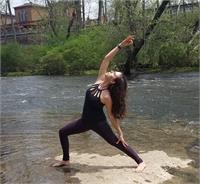 Treva first tried yoga from a magazine and videos over 10 years ago. After taking her first class at One Love Yoga, she realized there was more to yoga than just moving and exercising the body. She was amazed at the calming and peaceful effects she felt after a class. Treva began promoting yoga to family and friends and decided that the next step was to become a teacher herself so that she could share her love of yoga with others. She hopes to provide a class that is inviting yet challenging and helps the student to leave with a sense of peacefulness.
Treva Alleshouse instructs the following:
Moderate yoga gives a different kind of challenge - less poses more variations. Seeking to activate and strengthen alignment and space in the joints of the body. Great class for shoulders, hips, back and knee projects.




A slower class that uses the basic postures of vinyasa flow to focus on breath work and alignment. This class is a good transition class between basic and vinyasa flow. Slow Flow yoga provides a relaxing environment where you can drop the stress of everyday life.