Treva Alleshouse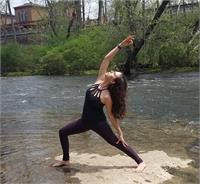 Treva first tried yoga from a magazine and videos over 10 years ago. After taking her first class at One Love Yoga, she realized there was more to yoga than just moving and exercising the body. She was amazed at the calming and peaceful effects she felt after a class. Treva began promoting yoga to family and friends and decided that the next step was to become a teacher herself so that she could share her love of yoga with others. She hopes to provide a class that is inviting yet challenging and helps the student to leave with a sense of peacefulness.
Treva Alleshouse instructs the following:
For the beginner or the student who has been away from their practice for awhile, this basic yoga class focuses on awareness of breath and the connection with movement. It also awakens the relationship between mind and body as you learn the alignment principals and postural patterns of beginner yoga. Strength and muscle endurance isn't necessary but will be gained with regular attendance.