Kim Quinn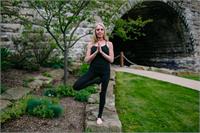 Kimberly Quinn, a busy mother of four and practicing attorney, knows what it's like to live in a hectic world. After finding yoga and honing her practice she realized the potential benefit of helping others through her own style and teaching.
She completed her Yoga Certification, a 200 hour Yoga teacher training course, culminating in January 2012. Always looking to grow, she has attended a number of yoga workshops including Foundations in Action in Miami, Florida with Baron Baptiste, Gravity and Grace with Peter Sterious and an immersion workshop with Sid McNairy and Pradeep.
Kimberly's philosophy centers on healing and strengthening the body, while reconciling the pressures and pace of everyday life with a meditative and spiritually uplifting practice.
Kim Quinn instructs the following:
For the beginner or the student who has been away from their practice for awhile, this basic yoga class focuses on awareness of breath and the connection with movement. It also awakens the relationship between mind and body as you learn the alignment principals and postural patterns of beginner yoga. Strength and muscle endurance isn't necessary but will be gained with regular attendance.