Tim Huth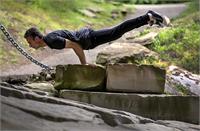 After spending years in the fast paced, high stressed corporate world, Tim found yoga at the request of his daughter April and wife Pam. They felt with his diverse background in martial arts, weight training, running, and bicycling, yoga would be a natural fit. It only took one class for him to realize this would be a lifelong practice. Despite a very hectic work schedule including frequent travel, he took advantage of all opportunities to practice yoga. In fact, the travel gave him a much broader perspective of teaching styles and different types of yoga classes available. He practiced everything from basics classes that taught him the importance of breath and proper foundation to Hot Bikram Yoga; an intense and extremely regimented style with focus on proper body alignment, back bending, and core strength.
Inspired by his first class with Darcy Providente, Tim decided to certify with his daughter April to teach Power Vinyasa Yoga. He feels this style is not only challenging but enables him to incorporate some of his past experiences. Tim's classes are a fusion of both his various yoga and martial arts experiences with focus on flexibility, balance, and core strengthening.
He believes in the importance of a strong physical practice that enables us to remain active and vibrant despite our years on this earth. He also recognizes the deep connection between the breath, mind, and body. His belief is one cannot be strong if the other two are out of balance.
Tim Huth instructs the following:
This vinyasa class builds on improving your foundation practice but is more challenging than basic yoga. A great class to de-stress the busy mind and help with flexibility, endurance and fluidity of motion. Sequences and range of difficulty vary with each instructor so come try one that fits your style of practice! Appropriate for all levels of experience but some knowledge of basic yoga is helpful.