Anne Laing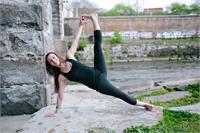 Anne Laing started practicing yoga in 1999. She fell in love with the movement, breath and flow of a class. Through yoga, she found her way to pilates and began teaching at The Tom Smith Pilates Studio in 2003. Inspired by her yoga teaching clients, Anne earned her 200 hour Yoga Alliance certificate with T.R.Y. for Life. Specializing in alignment, form and flow, Anne uses her classical ballet background to bring yoga to beginners and seasoned practitioners throughout the Akron area.
Anne Laing instructs the following:
Think Power Yoga meets Slow Flow/Restorative. Handstands plus Heart Openers! This half and half class will get you excited and balanced for the holidays. Get ready to rock out, go upside down and inside out and then melt so you can head home invigorated and ignited for your off the mat celebrations!




All the element of a basics yoga class in a convenient 50-minute format so that our students have time to swing in for a class during lunch break!




For the beginner or the student who has been away from their practice for awhile, this basic yoga class focuses on awareness of breath and the connection with movement. It also awakens the relationship between mind and body as you learn the alignment principals and postural patterns of beginner yoga. Strength and muscle endurance isn't necessary but will be gained with regular attendance.




PRE-REGISTRATION REQUIRED
$20 Drop-in fee must be paid in advance to hold space

Intro to aerial yoga. Be one of the first students to try aerial yoga at the Silk Mill. In this class, you will learn how to safely use the aerial hammock to support and improve your yoga practice. You'll increase upper body strength and stretch deeper with the support of the fabric. Increase body and spacial awareness as you move through 360 degrees of space.

*24 hours advance cancellation notice required for refund*




This is an ongoing mind/body strength class, with a focus on breath, alignments, and body awareness. This class uses elements from yoga, pilates, and barre for a thoughtful muscle building workout.




Moderate yoga gives a different kind of challenge - less poses more variations. Seeking to activate and strengthen alignment and space in the joints of the body. Great class for shoulders, hips, back and knee projects.